Keiki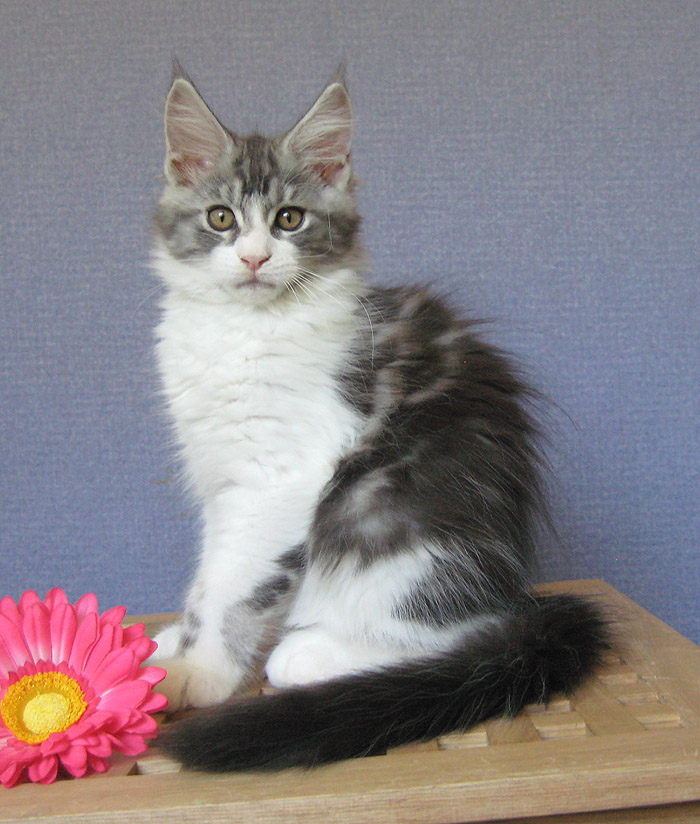 (Photo by breeder)

Thank you Maarit and Pauli for this beautiful and purring boy.
We will never forget you. Thank you for the time you gave us.



FIN* Chamberlain Visious Circle - born 2008-02-17 - 2009-01-12
He was our big teddy bear with a heart of gold.
MCO NS 03 22 ( Blacksillvertabby bicolour)
Male.

Nickname: Keiki (boy, son, offspring in Hawai´ian).
Parents:
GIC FIN*Chamberlain If you are mine MCO NS 03 22 - Blacksillvertabby bicolour
EC FIN*Chamberlain Darth Vader MCO N09 - Black/White

We are following Maine Coon - kattens health program and test our breeding cats for HD and HCM.
HCM: Normal December 2008, Anna Tidholm Albano Animal hospital
HD: Left: Normal/ Right: Normal
Pedigree

Siblings:
FIN* Chamberlain Victim of Love, Female Blackwhite bicolour - N 03
FIN*Chamberlain Viking Princess, Female Blacksilvertabby bicolour - NS 0322
FIN* Chamberlain Virtual Fighter, Male - Browntabby - N22
FIN* Chamberlain Velvet Sky, Male - Blacksillvertabby Harlequin - NS 0221
FIN* Chamberlain Vegas Moon, Male- Black/White - N09

Keiki´s gallery
Keiki was found dead on the floor in the bedroom morning 12:th of Januay 2009, only 10 month old. It´s absolutley unbelievable that he is gone. Deeply missed by James (his best friend), Lili, Kane, Eva and Göran, breeder and many friends.
He is sent to SVA for autopsy.
Answer 2009-03-25: Cause of death: Unknown
He will stay at home.